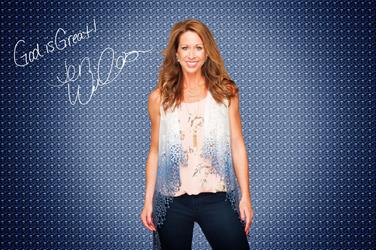 An exciting music ministry impacting the hearts and lives of youth and families around the world! Jennie Williamson brings an energy and excitement for Jesus that is contagious! The music and live events are filled with incredible messages of love and hope that reaches the hearts of every audience. Jennie actively tours across the country performing and speaking at Christian schools, Churches, VBS programs and Educators' Conferences, Pastor's Conferences, Women's Ministry Events and Christmas Concerts.
Jennie Williamson grew up on the front row of the church. Her father, a full-time minister of music in the church, was very inspirational to her as she watched him lead numerous rehearsals each week. As she listened to the uplifting music and saw how it was put together with such beautiful harmonies and creative arrangements, it inspired her passion for Christian music.
In 2000, Jennie moved to Nashville, TN and she started her career in Christian Music. She started her career by writing the song, "Let Not Your Heart Be Troubled" for a scripture-based CD series. Her songwriting, along with her vocal recordings and performances contributed significantly to the project which resulted in successful corporate partnerships and nationwide distribution. In 2004, Jennie and her husband Brian createdAriSon Records and they created the children's CD series "God is Great!". "God is Great!" was an instant hit with families and Christian educators. Today, there are 5 CDs in the series. Popular song titles include I am Unique, The Pearly White Gates, I'm Gonna Dance and Be Strong and Courageous and I'm Gonna Shout! Clap! Sing!. "God is Great!" CDs are being used everyday in Christian schools, homes, Churches and Sunday Schools all over the United States and also schools in Kenya, China and other mission locations around the world.
SingingVideos GalleryX
Only displays videos when rendered on an Artist page
, speaking and teaching are all very important to Jennie. While she understands that words and text are good for the cognitive part of our brain, she feels the soul is sometimes left untouched. So many people "hear" the "words" but the "words" may still not penetrate the heart. Music is just one unique way of reaching, touching and communicating God's love and truth's to the deepest parts of our hearts.
Jennie loves sharing her music and message to Pastors, Teachers, Moms and Dads, Men and Women, and Boys and Girls. With selling over 800,000 CDs, it is estimated that Jennie has touched the lives of over 2 million people. Jennie and Brian live in Franklin, TN, a suburb of Nashville, with their two beautiful girls Emma Lou, 13 and Eva Jane, 8
For information on Jennie Williamson's women's ministry events click here.