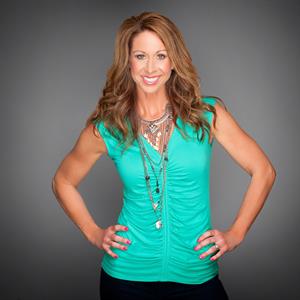 Jennie Williamson, Christian Recording Artist and Speaker from Nashville, TN, delivers an inspiring message about finding the Beauty from the Ashes in our lives and the joy that comes from finding God's peace.
Even though Jennie grew up in a strong Christian home, like everyone, she also faced struggles at times. After a series of life changing events, Jennie realized God was right there waiting for her and her heart was wide open to receive His love, grace and forgiveness.
Jennie moved to Nashville to followed her dream of being an artist in the music industry. She also re-connected with a college acquaintance that had lost his wife in a car accident. After sharing their stories, they knew each other's hearts, who God was calling them to be, and they started their journey together. Brian and Jennie married in 2000 and even now God continues to guide their marriage and ministry. God called them to impact the hearts and minds of children and adults with the peace and love they received from Christ.
Kintsukoroi best describes the purpose of Jennie's ministry: Kintsukoroi (n.) (v. per) "to repair with gold"; the art of repairing pottery with gold or silver lacquer and understanding that the piece is more beautiful for having been broken.
Jesus shares in Luke 4:18, "The Spirit of the Lord is upon me… He has sent Me to heal the brokenhearted." Jesus came to heal our broken hearts. His healing love is the gold that binds our hearts back together creating a stunning masterpiece that is beautiful and restored.
In 2018, Jennie released her latest CD, "You Came To Me". The CD is a musical journey of her testimony. The response from across the country, from women in particular, has been astounding.
For more information on the other ministries of Jennie Williamson and her work with children and families click here.
One-Day Evening Event Sample Schedule
4:30 - 5:30 PM - Doors Open
5:00 - 6:00 PM - Event/Meal Starts
6:00 - 8:00 PM - Keynote: Beauty from the Ashes… My Song of Grace
One-Day Morning Event Sample Schedule
8:00 - 8:30 AM - Doors Open
8:30 - 9:30 AM - Event/Brunch Starts
9:30 -11:30 AM - Keynote: Beauty from the Ashes… My Song of Grace
Weekend Event: Friday– Saturday Sample Schedule
Friday
6:30 - 7:00 PM Registration
7:00 - 8:00 PM Session One: My Song of Grace
Life and Testimony of Jennie Williamson
8:00 - 8:15 PM Break
8:15 - 9:15 PM Session Two: God's Healing and Peace For Our Hearts
Saturday
8:30 - 9:00 AM Breakfast
9:00 - 10:00 AM Session Three: I Am Unique… and So Are You!
10:15 - 10:30 AM Break
10:30 - 11:30 AM Session Four: Beauty from the Ashes
Celebrating Our Journey
Powered by Froala Editor